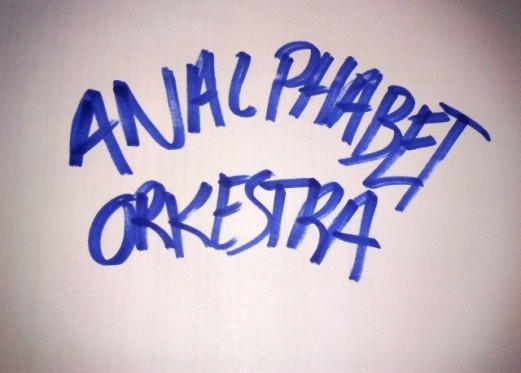 < Analphabet Orchestra, are sessions of a group of people dividing their practice in two main situations. One is about talking about artistic processes (first intentions, transformations-if they are-, and results) and the other is playing music. In between and around those two, there is a place of analogies and invisible sparkled facts for a common research and experience.


< This, has to be:


common and singular
Practical and theoretical


The music playing, goes like this: 4 or 5 people listen to some popular songs from unrelated bands using headphones and listening to the same songs at the same time. Playing instruments (preferably with no previous experience) trying to copy the songs, while listening as-well, to the sounds that other players are making. The practice is based on collective intuitive translation and comes from the need to practice a new language (being this illiterate) through a mechanism where one is receptor and transmitter at the same time, from the same body, and side by side to others, so that fragmentation is experienced between the group to arise flexibility in comprehension.

The talking, goes like this: I propose videos, quotes, happenings, somebodies' artworks, etc...in order to prepare the ground for relating different disciplines, genres, or situations for going further in ideas like, being non-skilled, the art as an exception, the present sense of translating...
< Each session is under different circumstances that pull the singular contents for each:



Session 1:



Happened in Marfa (TX), in one of the artist residencies around Donald Judd's legacy in the little Texian village around 2013 summer. One of the tutors from the program discovered that there was a professional music studio at the back of the house, hidden behind the kitchen. Shaun, inmidiately called his friends to come from California to play and record in that studio full of equipment.
The excess of professional material provoked in me the will to gather non musicians to play music in that professional dispositive.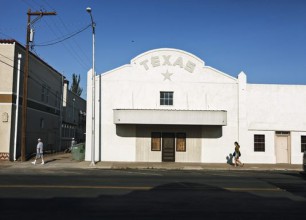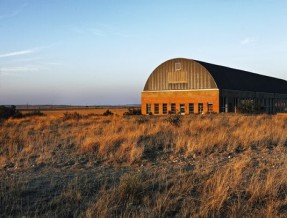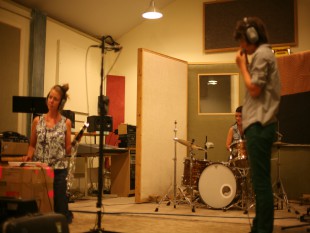 Session 2:


Was a public session for the "How To Live Together" publishing project's book launch, in Casco Storefront, Utrecht, October 2013

The fact that was "public" conditioned the participants to be in three diferent layers: one was copying the songs that they are listening to, 2nd was listening to the other's sounds and 3rd the show that they were doing for others.


Participants
Aziza Harmel, Marianna Maruyama, Isa Marcos
Session 3:

At the DutchArt Institute, Big group session's tunning moment
Session 4:

During an extention of a young artist's exhibition program in Arteleku (Art center in San Sebastian), the session lasted 1 day and a half; february 2014_programed within Newr-artists-show curated by Aimar Arriola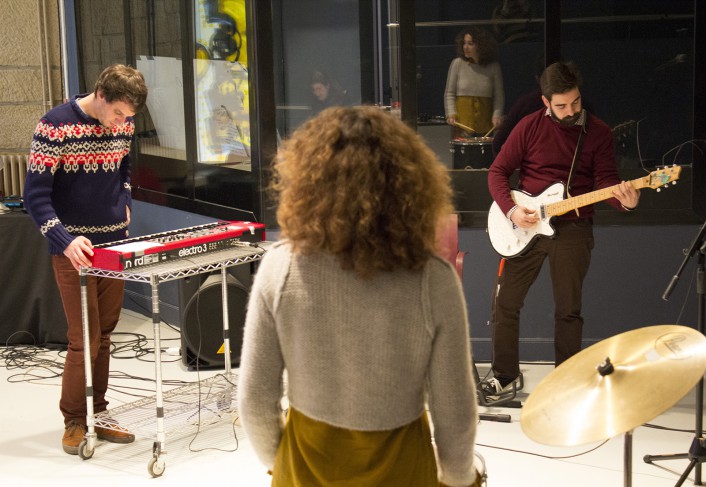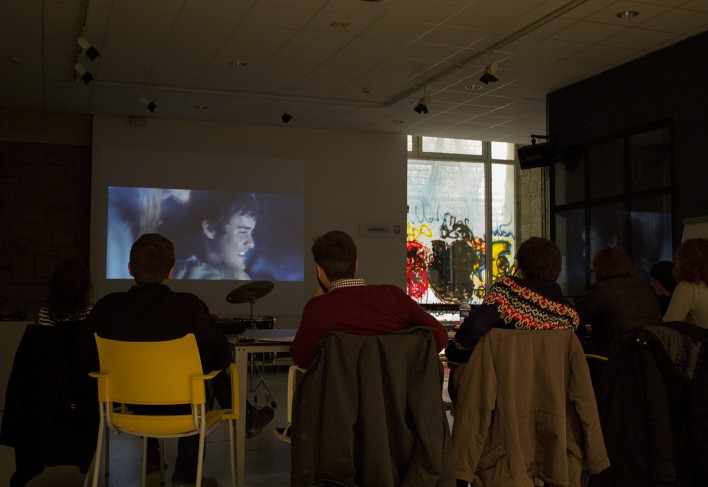 Contents

(growned up because session 4, and will be used for session 5 growing for session 6):



< Technical needs:

Instruments (variable):
Drums
Bass
1 micro
Keyboard
Guitar

Other sound elements:
Sound system
5 mp3players
5 headphones
4 jack inputs
1 canon input


A TABLE, SOME CHAIRS, Wifi

Other plastic materials like salt, charcoal, paper.
1: ANALPHABET, Escaping the standard languages

-Etymology
· A-AN: 1. prep. negation: an-alphabet, a-politic, a-synchronic
2. prep. going backwards, against...

· ALPHA: 1st in Greek alphabet
· BETA: 2nd letter in Greek alphabet

- Some definitions

· Spanish royal academy of language 2014:

"who doesn't know how to read or write"
"ignorant, without culture, profane in some discipline"

· Larusse, Spanish 1982:

"Situation of the persons that don't know, and so, don't manage the graphic symbols that conform the readings and writings of the language they speak."



Beatriz Preciado, (writer, teacher, gender studies) mentions the autistics in some lectures around 2013. Says that is a group that don't desire to communicate but yes to have an agency, so they have nothing to do with passive persons. Preciado, talks about them, as an example of what would mean to escape the assembly, as a way of collectivizing without having to pass through the assembly. Not having to agree to experience the common.

The example she used, is Amanda Baggs: a pseudo autistic person (cause she can still feel responsibility for explaining her way of experiencing live)

PLAY: https://www.youtube.com/watch?v=JnylM1hI2jc 8 mins.


Relation with artistic processes that are very rational and use the irrational and affective in crucial moments:
-Rossela Biscotti: "I work as journalist very rationally, although the last edition of the exhibitions is made in dreams."
-Ibon aramberri: works as a geologist, journalist…etc but the use of pop reference belonging to the collective imaginaery, turns the way he shows his work. Example of the piece from Madrid hills. "I looked at the city as the foreigner that approach the new land" -western movies-
-western movies-

Going to the first analphabet playing, not explaining, not talking moment.



In the 4rth session, back to the table, after Bagg's video and first musical practice, we build those CLAIMS.


ME AND THE WATER.
US AND THE WATER
Like US AND THE MUSIC INSTRUMENTS
__




TRY a four track mix. A good one! made of: Puccini's Requiem, Blonded Readhead Camarón and Lorde
Session 5:
Radio program at Stroom (Den Hague) at Christian Nyampeta's Radious!!!!:

(session starts on minute 10:00)




< El tocar, funciona así: escuchar varias canciones conocidas de bandas dispares entre sí, usando auriculares. Tocando instrumentos (preferiblemente sin saber hacerlo o tratando de no utilizar la técnica), intentando copiar las canciones, a la vez que escuchando lo que las demás personas hacen. La práctica está basada en la traducción colectiva e intuitiva y viene de la necesidad de practicar un nuevo lenguaje (ya que este es analfabeto) a través de un mecanismo donde uno es receptor y emisor al mismo tiempo, y desde el mismo cuerpo, al lado de los otros. Así la fragmentación se experimenta en grupo y habilita la flexibilidad en la comprensión.
Y el hablar así: Propongo vídeos, citas, hechos, piezas de artistas, etc...para preparar el terreno donde se relacionarán diferentes disciplinas, ámbitos, géneros o situaciones para ahondar en ideas como, la no especialización, el arte como excepción, el presente sentido de la traslación o traducción.
< Analphabet Orchestra, son sesiones de un grupo que divide la práctica en dos
situaciones principales. Una es hablando de procesos artísticos (primeras intenciones,
transformaciones y resultados-si los hay-) y la otra es tocando instrumentos.
Entre y alrededor de estas dos, surge un lugar de analogías y algunos hechos burbujeantes para una investigación y experiencia en conjunto.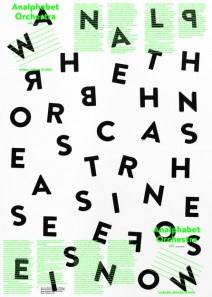 Session 6:

Bilbao december 2014


The starring notion in this session was "continuing the reverse", which is behind , or the other side. When we do not know from what.


ESPACIO PUERTA!!


en esta sesión la noción estrella fue la del "reverso", lo que está detrás, o al otro lado. Cuando hacemos desde lo que no sabemos.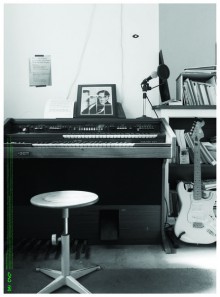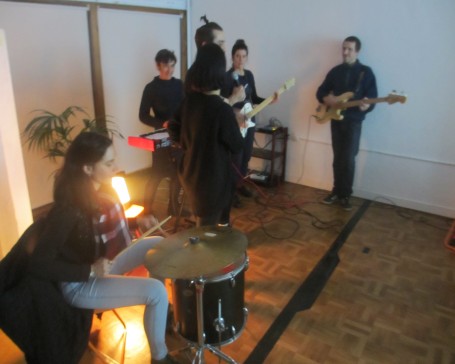 Poster published by CasCo/DAI
designed by Maria Jimena Sánchez. 2014

Session 7, Tabakalera, Donostia, 2015ko maiatzean: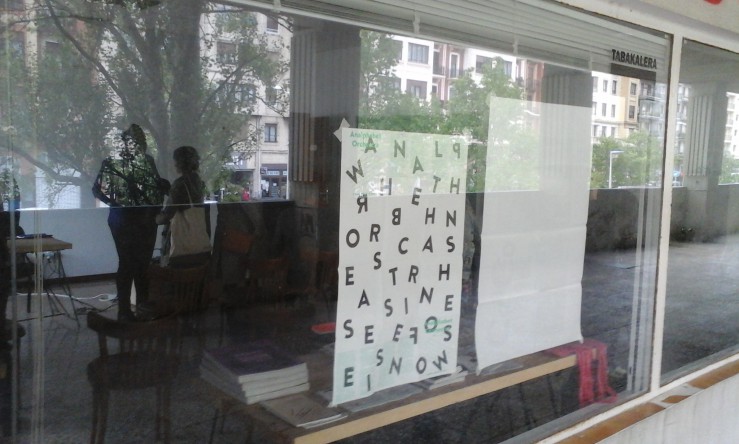 10 Sesioa:
11-12 DECEMBER 2015,
BILBAO
session 9, PAF, fr_27_august

·11 dic. Bulegoa Z/B:

11:00-18:00
Taller-sesión Analphabet Orchestra 10

19:00:
Exposición de pieza a partir de premisas de Analphabet Orchestr de Analphabet Orchestra de Maite Vélaz
Presentaciones de Aziza Harmel y Gelen Jeleton


·12 dic. Larraskito Kluba:

Sábado, 12 de diciembre. 19:30: Sergio Prego y Jorge Nuñez presentación de publicación y textos recientes.

Sábado 12 y domingo 13 de diciembre. 12:00-22:00: Exposición de piezas a partir de premisas de Analphabet Orchestra por Sandra Cuesta y Claudia Lorenzo+Olatz Otalora.

·18 dic. Zarata Fest:

performance Analphabet Orchestra en en Hika Ateneoa

Analphabet Orchestra es un trabajo a largo plazo de Larraitz Torres que busca el aprendizaje y la experiencia común pero singular para cada cual, a través un medio en el que nadie es experta. El proyecto se desvía en varias propuestas como las charlas, las sesiones, la performance o una publicación, contando con la colaboración de artistas y trabajadoras del arte como Valeria Grazziano, Blanca Calvo, Mårten Spångberg, Aimar Arriola, Paula Caspao, Sandra Cuesta, Jesús Jeleton, Casco, Azucena Vieites, Azala o Jorge Núñez.
CAME OUT!!:

"Publicación Analfabeta 1":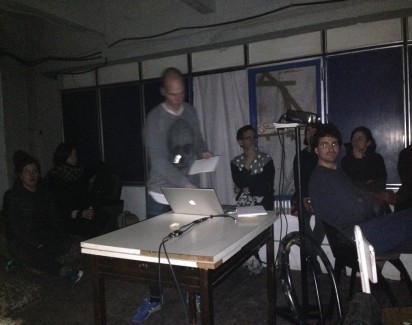 Sesión 11

Azala 22-28 febrero< Paula Caspao + Sandra Cuesta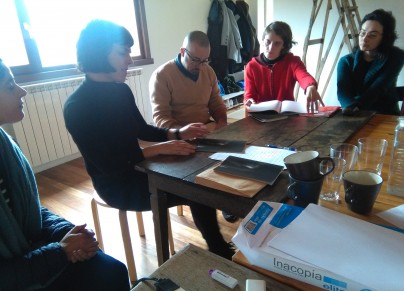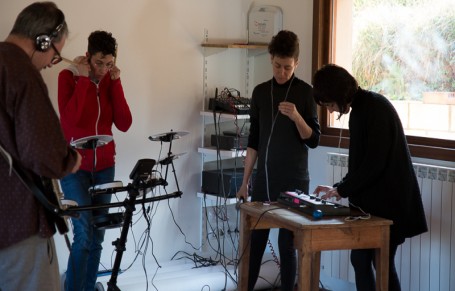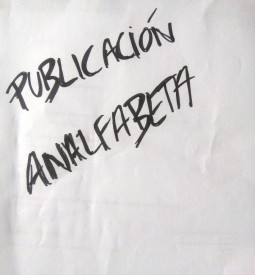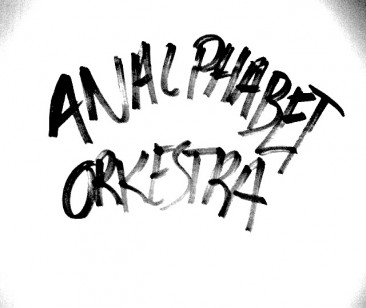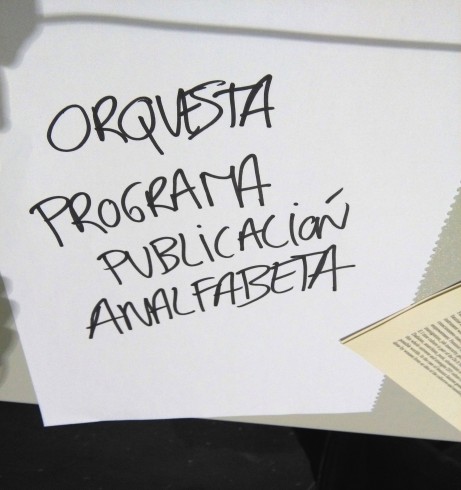 Session 12!!! 7 de mayo, Librería La Caníbal, Barcelona con: Sandra Cuesta + Jesús Jeleton
Esta publicación viene del proyecto Analphabet Orquestra, que a través de una práctica musical se ocupa de deslocalizar y dislocar lo esperado. Desde el 2013 A.O. se está dando acompañado de programas de charlas y presentaciones de artistas, mostrando sus modos de dislocar su práctica para llegar a otros lugares. Los contribuyentes a esta publicación son Azucena Vieites, Valeria Graziano, Jorge Nuñez, Casco y Aziza Harmel.
PUNTOS DE VENTA O LECTURA: Kaxilda (Donostia), Anti (bilbao), Ca2M (Mostoles), La Canibal (Barcelona), Section 7 (Paris)
This publication comes from Analphabet Orquestra project, which through a musical practice operates in dislocating and deterritorializing the expected. Since 2013 A.O is accompanied by programs, lectures and presentations of artists, showing their ways of dislocating their practice in order to get to other places. The contributors to this publication are Azucena Vieites, Valeria Graziano, Jorge Nuñeez, Casco and Aziza Harmel.
Also available at: Kaxilda (Donostia) , Anti ( Bilbao) , CA2M ( Mostoles-Madrid ) , La Caníbal (Barcelona), PAF's library (St. Erme) and Section 7 Books ( Paris)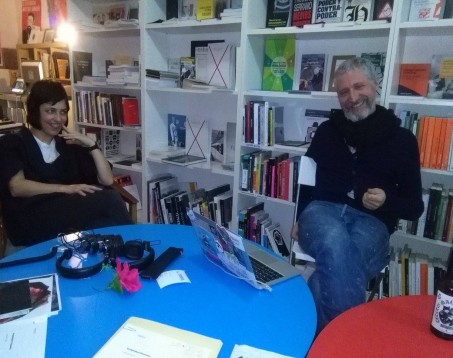 Sesión 13
9 Noviembre 2016, Centro Ricardo Rojas, Buenos Aires. Super Duper chévere!Combinando la lectura de la publicación analfabeta con la Orquesta! mil gracias!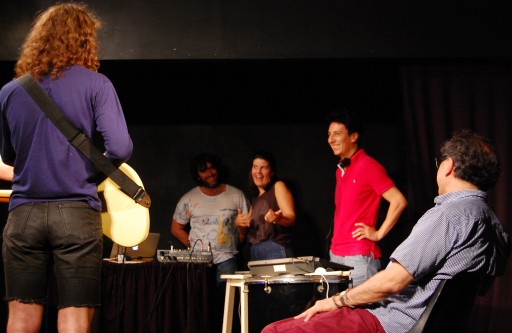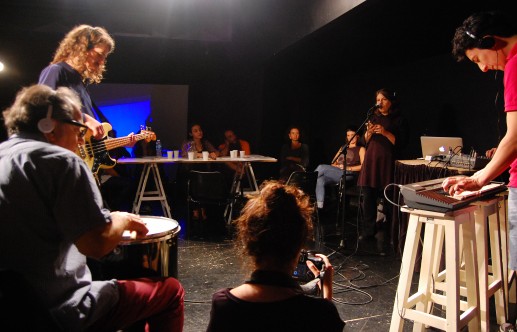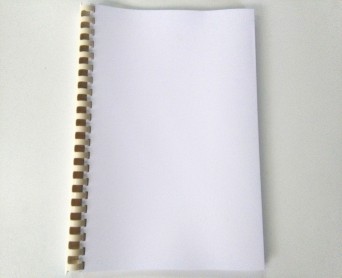 Aquí lo podeis consultar > > >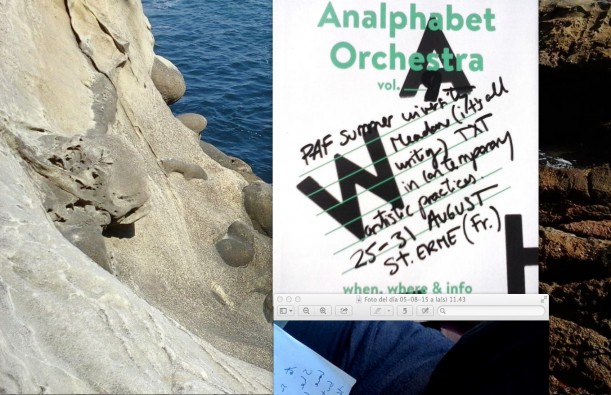 Del 4-03-2017 al 2-04-2017
Programa Analfabeto propuso una exposición, dos conferencias y una serie de sesiones de Analphabet Orchestra* durante el mes de marzo en Alkolea Beach.

Lo Otro (chal) y Decorar Agujeros (cinceles). Jorge Satorre
Aisiar Eho. Escribir por primera vez. Sandra Cuesta
DSTR #01. Estanis Comella
Learning to talk back de Valeria Graziano y Canon X por Oier Etxeberria.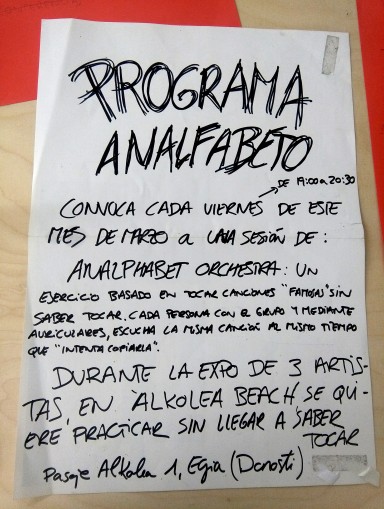 Con el apoyo de:

Eremuak, Eusko Jaurlaritza, DAI, Casco,